---
From the manufacturer

Features
2400 Watts

Ideal combination of 2400 watts power output and steam emission for a great end result.

Durable soleplate

Enjoy long-lasting ironing performance with our steam iron's soleplate that is 60% more durable than standard ones

3D FreeGlide

Its unique upward curving soleplate guarantees 360° glideability. Glide backwards over any obstacle like buttons and pockets.

Easy Lock

Easy lock feature to carry and store the iron easily. Simply park the iron and push the slider to lock.
Easy calcClean

Ensures long-lasting performance by automatically warning of any mineral scaling build-up. When the CalcClean alert blinks, two minutes is all it takes to descale.

Double Steam Technology

DoubleSteam Technology Produces more than twice as much steam as normal steam irons, which helps cut your ironing time in half. Steam rate is 100% higher so you only have to go over a spot once instead of twice.

Eloxal Plus

Braun's best gliding soleplate. Even glides backwards over any obstacle.

2 L Water Tank

New XL 2-litre tank that lets you iron for up to 2.5 hours without having to stop for water.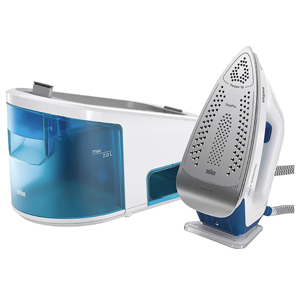 Braun
CareStyle 3 Pro Steam Generator Iron
The Braun Steam Generator IS 3157 is the perfect solution for effortless and efficient ironing. With a 2400 W motor and a 6.8 bar pump, this steam iron provides powerful steam output that easily removes wrinkles and creases from your clothes. Its 3D FreeGlide soleplate and double steam technology offer maximum steam distribution for faster results. The 2-liter water tank ensures long ironing sessions without the need for frequent refills. The eloxal soleplate is 60% more durable, and the CalcClean feature removes mineral deposits for long-lasting performance. Additionally, the easy lock system ensures safe and compact storage. Experience exceptional ironing performance with the Braun Steam Generator IS 3157.
Product Specifications
2400 Watts

2 Liter Water tank

3D FreeGlide

Double Steam Technology

60% more durable soleplate

Easy calcClean

Easy Lock

EloxalPlus