---
From the manufacturer
Precisely Crushed Ice – Enjoy the Difference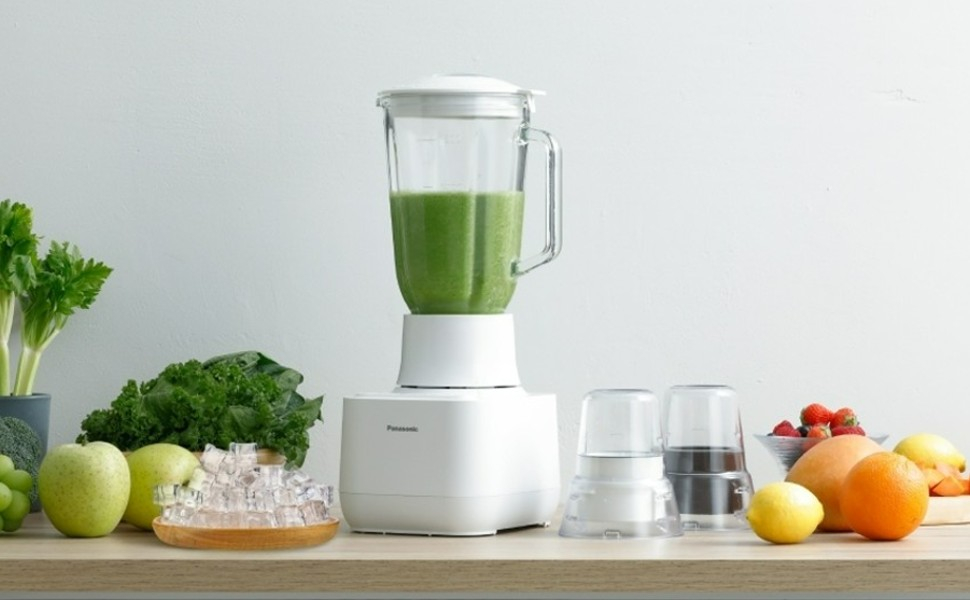 Finely Crushed Ice for Healthy Homemade Treats

Enjoy healthy snowy crushed ice drinks and dessert by blending fruits and ice together for a naturally sweet and refreshing treat. Crush up to 250g of ice cubes* at a time!

Efficient Ice Shaving

The four blades are designed asymmetrical to increase the cutting range by preventing the blades from rotating around the same locus. The combination of this large range of motion and the optimised blade shape results in finer and more consistent shave

Durable Sawtooth Blades for Powerful Crushing

The unique blades are optimized to efficiently prepare various ingredients.

HEIGHT: Easier to come in contact with food.

THICKNESS: Easily grinds food with high durability.

SHARPNESS: Efficiently cut food.

SAWTOOTH BLADES: Capture and cut food into finer pieces to create a smooth texture.
Unique Blade and Powerful 700 W Motor Lifts Ingredients

Panasonic blender can blend food even in small amounts relatively cleanly as the food is circulated.

Optimised Shape of Jug Makes Dynamic Circulation

Lifted ingredients hit the jug wall and drop onto the bottom blades. Thanks to the unique conical jug shape, the ingredients are lifted and spread up the side of the jug, fall and settle in the centre.

The Four Ribs Catch the Ingredients, Making Them Easier to Cut

The gaps between the ribs and blades are adjusted and designed in a well-balanced way to prevent the blades from sustaining significant damage while chopping ingredients finely
Get Nourished with Silky Delicious Smoothies

Enjoy delicious, wholesome, fruit & vegetable smoothies! The combination of the four ribs on the inner surface of the jug and the optimally shaped blades blend food dynamically, allowing hard and small foods to be crushed evenly.

2 Dry Mills for Freshly Grinded Spices, Nuts or Coffee Beans

It comes with two dry mill attachments. You can use them more hygienically by separating mills for different purposes.

Speed Control Lets You Create a Variety of Menus

Blends with optimal speed to suit different menus. Speed 1 and 2 operate at a constant speed for a smooth finish. Pulse 1 and 2 operate while the button is pressed for a customised finish.