---
From the manufacturer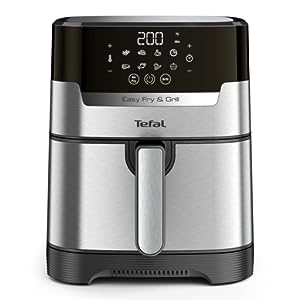 The first 2-in-1 Healthy Air Fryer: Air Fry & Grill by Tefal
Enjoy health-conscious cooking with two appliances in one! Easy Fry & Grill 2-in-1 Precision combines an air fryer and grill for healthy frying with little to no oil, along with flawless grilling from the comfort of your kitchen. Its 8 automatic programs make perfect results a breeze, while its fast cooking makes it the ideal alternative to a classic oven. The XL 4.2 L/1.2 kg capacity is perfect for generous meals for up to 6 people and comes with Grill technology & a die-cast aluminium grid that lets you sear any type of food to perfection. Get inspired with easy and delicious recipes to delight the whole family available via the digital recipe book. Discover an air fryer and grill all in one, for versatile, easy & healthy cooking day after day.

Extra crisp technology
Extra crisp technology offers the perfect balance of temperature and hot air flow for crispy, golden results with little to no added oil—enjoy 99% less added fat than a deep fryer!

Grill technology
A die cast aluminum grid grill promises tender, juicy meat or veggies seared to perfection right in your kitchen.

8 automatic programs
Perfectly prepare a range of dishes with total ease, thanks to 8 automatic cooking programs (Fries, Nuggets, Roasted Chicken, Pizza, Meat, Fish, Vegetables, Dessert).

Digital recipe book
30 tasty recipes created by our exclusive Chef to inspire you day after day.
Faster than classic oven

The Easy Fry 2-in-1 design cooks nearly 2x faster* than a classic oven, while consuming less energy. *49% faster: external cooking test carried out on 700 g frozen fries compared to a convection Moulinex/Tefal oven

Adjustable temperature

High-precision temperature control from 80°C to 200°C promises perfect results every time, whatever the recipe!

XL capacity

A generous 4.2 L/1.2 Kg capacity is perfect for preparing delicious meals for family and friends—up to 6 people.