---
From the manufacturer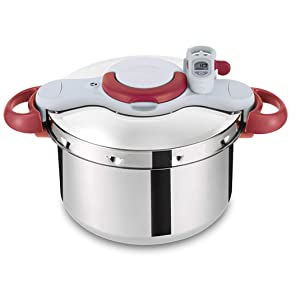 One-handed Easy Opening
While cooking, you don't always have both hands free to take care of all of your cooking needs. Professional at Tefal know that, therefore they have made the ClipsoMinut Perfect Pressure Cooker super easy to operate even with a single hand. You can now open and close the cooker effortlessly with one hand which makes using this cooker both easy and effortless.
Product Specifications
Pressure Cooker

9L

Cooks up to 2 times faster

30% lighter

Up to +80% of vitamin C preserved

5-Security system
Fast

Save time spent in the kitchen and spend more time having fun with the Tefal ClipsoMinut Perfect Pressure Cooker. With a 9L capacity and perfect pressure levels, this cooker can cook up to two times faster than any other Tefal pot or cooker. If you have a big number of people coming over, getting your meals cooked and ready will take no time. You can cook everything from veggies to meat, fish and even some desserts.

Easy to Use

Cooking has never been or looked this easy. The ClipsoMinut Pressure Cooker with a 9L capacity is uber-easy and comfortable to use. All you need to do is out the meal's ingredients and get cooking. Not only is it easy to control, this pressure cooker from Tefal weight 30% lighter than the previous Clipso cooker with the same capacity.

Vitamin Preservation

You can trust the Tefal ClipsoMinut when cooking. No matter what vegetables and meals you are cooking, the ClipsoMinut ensures that up to 80% of vitamin C is preserved and you can get the full benefits of having it in your food. Now you can enjoy cooking broccoli and other vitamin-filled items without a single worry.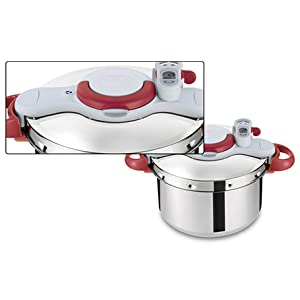 5-Security System
While some people fear using a pressure cooker as a part of their cooking routine, the Tefal ClipsoMinut is here to change that perception. With a 5-security system, the Tefal ClipsoMinut delivers an ultra and super-safe pressure cooking. You can now cook while you are assured with the knowledge that this cooker is safe for your family and kitchen.