---
From the manufacturer

Features
900W Motor

With its 900W powerfull motor, the Braun Juice Extractor can easily handle even the toughest fruits without any effort, making it ideal for extracting juices.

Anti-Drip System

One-touch anti-drip system for a spotless kitchen.

High-Performance Juicing System

Enjoy your early-morning vitamin boost quickly and without extra work. The high-performance juicing system gets the most out of your fruit. It only takes 15 seconds to make a refreshing, healthy glass of juice. The process is not only quick but also convenient and efficient: the powerful motor and automatic feeder system allow you to effortlessly create perfect juice.

Make Juice With Whole Fruits

The large chute is perfect for processing whole fruits: no need to spend time pre-cutting anything, simply throw in large chunks or whole fruits and let the juicer transform your ingredients into a delicious beverage.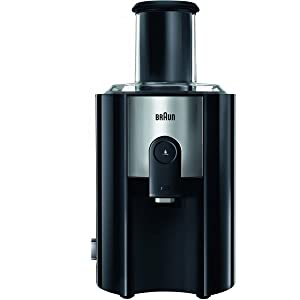 Braun Juice Extractor
Enjoy your early morning vitamin boost with the Braun J500 Spin fruit and vegetable juice extractor. This black juicer has a powerful 900W motor. It is designed to extract the most out of your fruits and takes barely half a minute to make a batch of refreshing juice. It has an automatic feeder system with a large 75mm chute that can easily handle whole fruits. This two speed juicer has a stainless steel micro mesh sieve and a foam separator, so you get a clear glass of juice everyday. The anti splash spout helps keep your kitchen surface clean. If you need to pause the flow, simply press the anti drip button to avoid spills.
Product Specifications
2 Speeds

Wattage: 900W

Large 75mm chute

High performance juicing system

4 way safety system Innovative anti-drip system

Easy to clean

Colour Black