---
From the manufacturer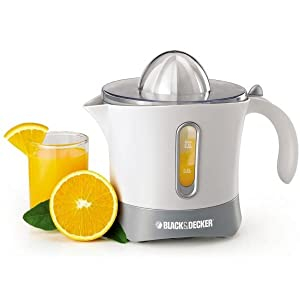 Black and Decker Citrus Juicer offers a great way to start juicing with limited pulp and lots of great flavors! This juicer can fit in comfortably with your lifestyle.Black and Decker Citrus Juicer is a super convenient juicer, which is fast and easy to use. This 30W juicer with 0.5L capacity will compliment your needs perfectly. Furthermore, it is designed to run on two speeds, low for soft ingredients and high for hard ingredients. This Hand Press Juicer runs bi directionally to extract the maximum juice from the ingredients. The safety lock on present on this device protects you from any injuries and splashes. This beautiful off white colored juicer looks chic and smart and enhances the look of your kitchen counter. One large and small cone is present for different sized fruits. The easy to use and friendly features is what makes this appliance a must have for your home.
Product Specifications
Energy Consumption: 30 W

Material: Plastic

Capacity: 0.5 Litre

Color: Off White

Type: Hand Press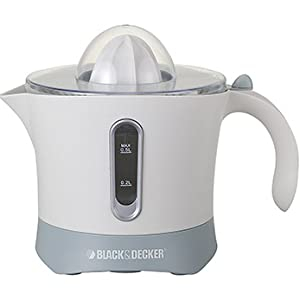 Superb Design
The plastic used in the design of this Black and Decker citrus juicer is highly durable and does not break easily. The nonslip feet stabilizes the unit and stops it from slipping while in use. The best part of the design is the presence of the transparent container, by looking at which you can quickly gauge the quantity of the remaining juice.
Excellent Performance
The compact size of this Black and Decker juicer enables you to use it with one hand. The self reversing cones present in this juicer ensures maximum extraction of juice. The adjustable pulp control feature removes the unwanted pulp and makes the juice clear and refreshing.