---
From the manufacturer

Tramontina Una Stainless Steel Cookware Set
Indulge in the joy of cooking with Tramontina's Una 4-Piece Stainless Steel Cookware Set. Crafted to perfection, this set is designed to enhance your culinary experiences with exquisite aromas and flavors. Each piece in this set is meticulously constructed with high-quality stainless steel, featuring a sleek mirror finish. The tri-ply base, consisting of stainless steel and aluminum layers, ensures efficient heat distribution, leading to faster and energy-saving cooking. Say goodbye to cold meals as the superior heat retention keeps your dishes warm for longer durations. The tight-fitting glass lids, equipped with a steam vent, lock in the flavors and allow for easy monitoring of your cooking progress. Cleaning up is a breeze as these cookware pieces are dishwasher safe, saving you time and effort. Unleash your culinary creativity and enjoy moments of pure satisfaction in the kitchen with Tramontina's Una Cookware Set. Elevate your cooking game and create extraordinary dishes that will leave your taste buds wanting more.
| | | |
| --- | --- | --- |
| Suitable for all your recipes and any type of cooker: gas, electric, glass ceramic, or induction. | Tramontina's stainless steel is a high-quality raw material, highly resistant, and does beautifully well for much longer in the kitchen. | The three-ply bottom (stainless steel + aluminum + stainless steel), distributes the heat evenly for faster cooking. |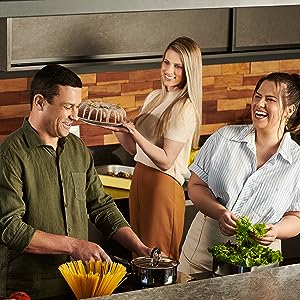 About Tramontina
More than statistics, what truly defines Tramontina is its ongoing endeavor to improve people's lives. It's an endeavor that has resulted in over 22,000 items that serve different purposes and have distinctive features, all while embodying the same values of a single brand. Our mission is to do things well to inspire people's daily lives and stimulate meaningful experiences, generating value and satisfaction for clients, consumers, employees, stakeholders, and communities. Our vision is to be the Brazilian industry leader in delivering the best everyday solutions. To remain a brand that is a reference of quality, innovation, ethical relationships, and human values.