---
From the brand
---
Product description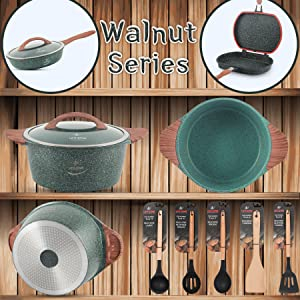 Better Cooking Performance With Walnut Series
With its 6mm thick cast aluminum body, the cooking temperature is rendered uniform over the entire surface. This is the ideal tool for gentle cooking over low heat that keeps foods wholesome and more flavoursome. Discover the Selected range for everyday cooking and the specialized cookware for preparing vegetables, fish, lean meats and for oven, steam and slow cooking on LIFE SMILE.
Premium Die-Cast Aluminum Body

Oven safe, Dishwasher safe, PFOA FREE

Durable Non-Stick Granite Coating

Heat Resistant Bakelite Handles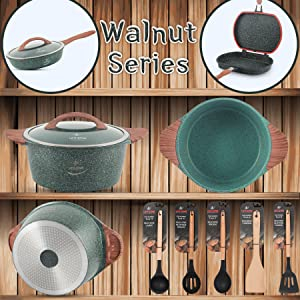 Green Collection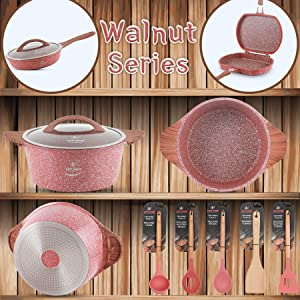 Pink Collection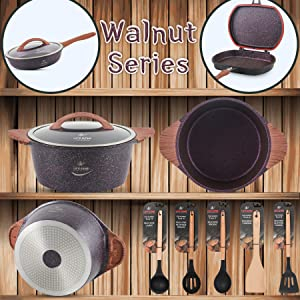 Purple Collection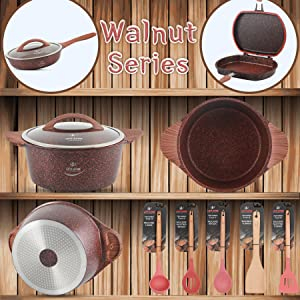 Red Collection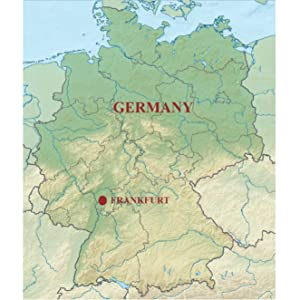 GERMAN INTEGRATED SUPPLY CHAIN
We start from the raw materials, all products are made from high grade aluminum provided directly by the German smelters of Frankfurt and the non stick coatings are developed in direct collaboration with German quality.
Whit their diamond brush pattern each piece is individually hand-finished and checked and before reaching the final consumer.
The LIFE SMILE is 100% German, allowing more effective and timely controls and safety.
The best yield of food thanks die-cast aluminum and uniform heat distribution.

German production with inspected and supply chain.

Specialists at your service research and development.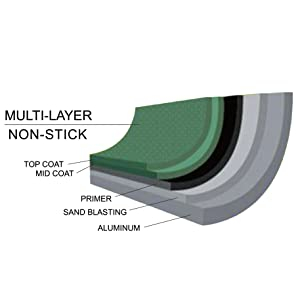 TECHNICAL CHARACTERISTICS AND USE INSTRUCTION
The LIFE SMILE range is manufactured from die cast aluminum (thickness 58mm) with a long lasting non-stick coating. The use of the highest quality and appropriate materials in the production process combined with each article being hand finished of LIFE SMILE products for a long period . Due to the exceptional coating, LIFE SMILE products are the perfect solution for cooking healthy and dietetic food (without fat) and very easy to clean.
Care and use instructions
Before using the pan for the first time wash in hot soapy water, dry thoroughly and season lightly with oil/butter.

Low/medium heat is sufficient for obtaining the best cooking results. Never overheat the pan (maximum temperature of 200-240 C is indicated on the packaging for each specific range), Cast aluminum is a very good conductor of heat and continual overheating could damage the coating. Do not heat the pan when it's empty.

The pan must be used for cooking only. Do not use the pan for conserving (stocking) the food for longer periods as some aggressive food can damage the coating.

Use only wooden and nylon utensils and do not cut the food in the pan.

After use leave the pan to cool for a while, clean it in hot soapy water and dry it thoroughly.

Some aggressive detergents can damage the product. Wash by hand is suggested.

Slight color change of the coating inside the pan does not have any negative effect on the quality of product or it's effectiveness during use.

Bakelite handles of pans and knobs on the lids are ovenproof from 180-240C (follow indication on the packaging of product)

Saucepans and frypans not consisting any plastic part are suitable for use in the oven as well. For secure reasons, some products needed during manipulation of hot product (kitchen gloves, cotton holders)

LIFE SMILE products are suitable for all types of cookers (gas, electric, ceramic/halogen hobs, oven).
A LIFE SMILE diet is: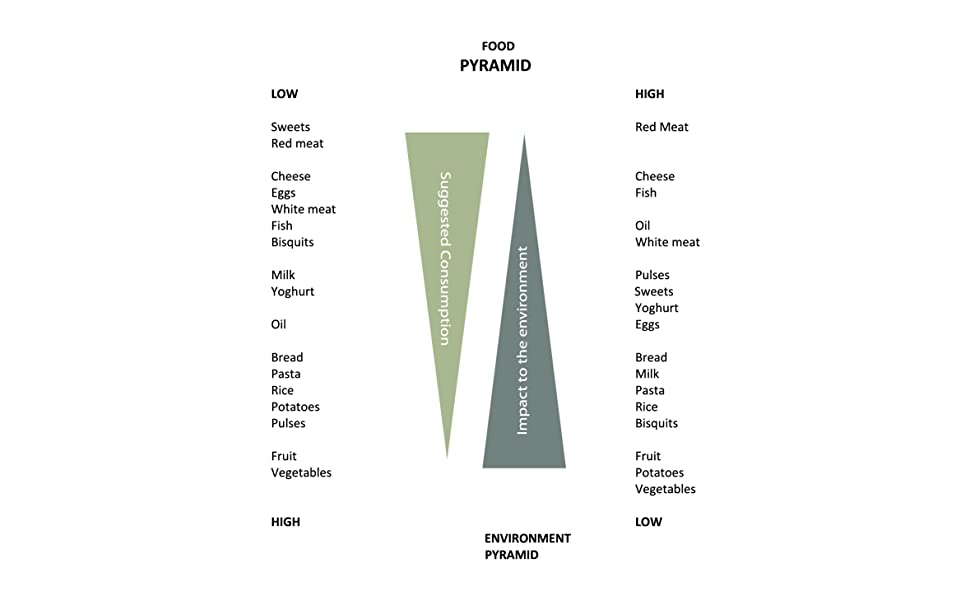 Food and environment Pyramid
Products that are good for our health are also those which are good for our environment. The dual food-environment pyramid was conceptualized and published for the first time in 2006 by the BCFN (Barilla Center Food & Nutrition) and is a communication tool that puts in relation both aspects of nutritional and environmental impacts of foods.
The nutritional part (which varies depending on the suggested frequency of consumption) was devised by taking as reference model the Mediterranean Diet.
The new environmental pyramid has been designed by reclassifying the same food pyramid with respect to the impact of those foods on environment.
Looking at the two pyramids side by side (see picture) we can easily see how foods for which a higher consumption is recommended are also those that have a minor environment impact. Viceversa, those for which a minor consumption is recommended are the ones which have a greater environmental impact.