---
From the manufacturer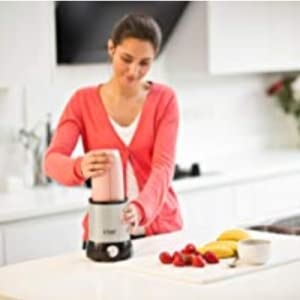 NutriBoost by Russell Hobbs – Enjoy all the benefits of easy food
A compact and powerful blender
Russell Hobbs NutriBoost has 700 watts of power, two blender and mill functions make it easy and fast to make smoothies, soups, sauces and drinks concentrated in fiber without losing a drop of valuable vitamins!
For vitamin-rich breakfasts
Refueling on a daily basis can improve your health and your moral and physical fitness. The NutriBoost is the ideal device for those looking to add more fresh foods to their diet without taking the lead!
Enjoy all your favorite fruits and vegetables easily
The NutriBoost is an all-in-one device that can be used both as a grinder and as a blender. You will not lose a sip or a mouthful of nutrients, vitamins and other benefits of fruits and vegetables that will arrive directly in your delicious drink!
Whether you make sorbets, sauces, soups or smoothies, you will have fun trying different flavors and recipes.
700 watts of power
15 accessories included

3 large bowls of 700 ml

2 small bowls of 350 ml

6 steel blades for mixer

2 blades for grinding

2 storage lids

2 caps gourd type to carry your drinks

1 perforated lid to sprinkle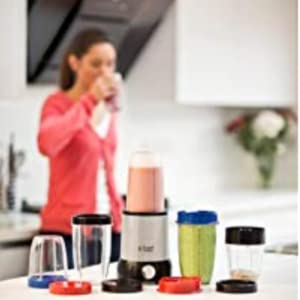 A blender function and a mill function for more possibilities
NutriBoost is equipped with a 4-point blade to mix the ingredients you need to make soups, smoothies or purees. It also has a notched blade, convenient for grating cheese, grinding coffee beans and chopping nuts.
A multitude of bowls and lids
The NutriBoost is a family-sized appliance supplied with 5 bowls and lids for storing, serving or transporting your drinks. Included are a perforated lid to sprinkle cocoa, cheese or spices, and two gourd-type caps to take your smoothies everywhere. Highly equipped and powerful, this device will earn its place at the heart of the kitchens of all families concerned about their health!
Blender & mill

Equipped with 6 steel blades for blender and 2 grinding blades ideal for making fresh smoothies or for grinding coffee, nuts, spices etc.

Bowls for the whole family

Included are 3 large bowls of 700ml and 2 small bowls of 350ml to store or take your preparations with you.

A wide choice of lids

Sprinkle, preserve or take your preparations with a multitude of lids, rings and caps.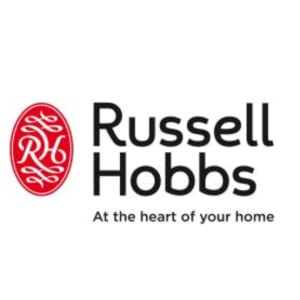 About Russell Hobbs
Russell Hobbs products offer you more than just quality, design and innovation – they help create tasty moments throughout the day. From the first cup of coffee in the morning, to the warmth of a just ironed shirt, to the simple pleasure of sharing a meal with the family, these are the moments that really matter. From kettles and toasters to irons and culinary preparations, all Russell Hobbs appliances are there to simplify your life with elegance. Products designed for everyday life and solutions that make your home even more enjoyable.