---
From the manufacturer
D-Link AX5400 WiFi 6 Router (DIR-X5460), OFDMA, MU-MIMO, Dual-band, QoS, Voice Control, USB 3.0 ports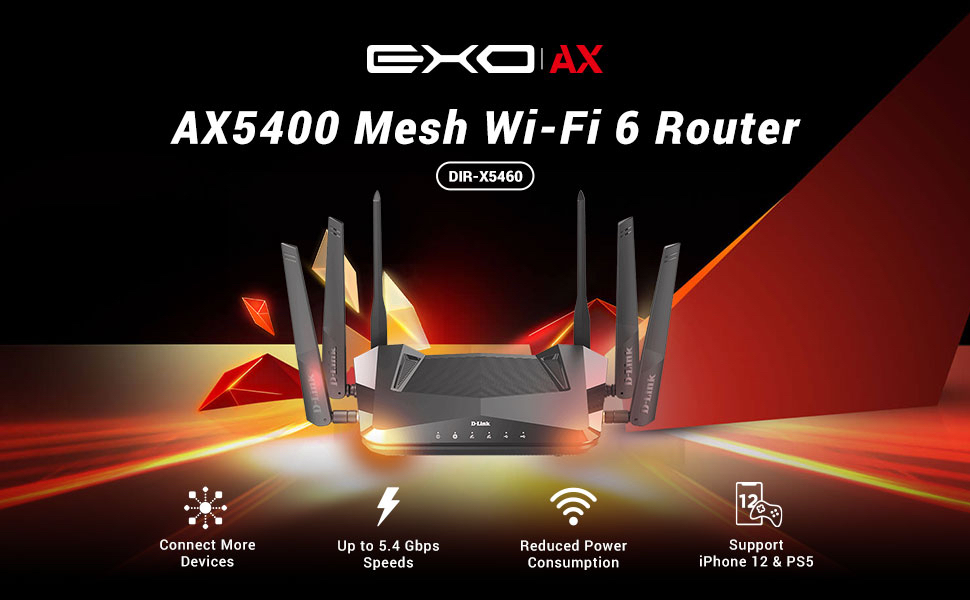 Connect More, Congest Less with OFDMA

The DIR-X5460 uses Wi-Fi 6's cutting-edge Orthogonal Frequency Division Multiple Access (OFDMA) technology. Small data packets destined for multiple devices are transmitted together and never have to queue up again. Perfect for Smart Homes filled with bandwidth hungry IoT devices battling for bandwidth.

BSS Coloring

Your neighbors' Wi-Fi could be interfering with your wireless signals and slowing things down. Wi-Fi 6 puts an end to the Wi-Fi strife with BSS Coloring technology. It makes transmissions more unique by 'coloring' them with their own unique code.

Conserve Energy, Save Battery Life

Target Wake Time (TWT) helps reduce battery consumption for connected devices by communicating with them and deciding when and how often the device requires data transfers. TWT increases the device's sleep time, therefore cleverly extending the battery life of client devices and optimizing spectrum utilization.

Supports WPA3 Encryption

One of the biggest concerns with Wi-Fi networks and connected devices is privacy. The latest 128-bit encryption is the most advanced standard available and begins a new era of wireless encryption, ensuring greater privacy throughout users' networks and devices.
Extended Coverage, Reduced Interference

High-gain antennas, built-in power amplifiers and beamforming technology allow the DIR-X5460 to extend the reach of your Wi-Fi and focus a stronger signal in the direction of your devices to ensure a stronger, faster and more reliable Wi-Fi experience.

Always Up-to-Date

Firmware upgrades can be a pain, but with the DIR-X5460, they are completely automated. Upgrades are so smooth, you won't even notice them. On top of that, the DIR X5460's Dual Image functionality saves a recovery image as a backup before an upgrade. So, in the unlikely event an upgrade fails, the system has your pre-existing configuration to fall back on.

Voice Control

Works with the Google Assistant and Alexa

Simple Setup

Download the free D-Link Wi-Fi app for super simple setup and ongoing management. Set parental controls based on your family's online needs, access your Wi-Fi settings and more, directly from your smartphone or tablet.