Sony ZV-1F Vlog camera for Content Creators and Vloggers, large 1-inch sensor with wide angle 20mm lens and packed with easy-to-use features, specifically designed for vloggers and online video creators.
---
From the manufacturer
Easy-to-use and with dazzling image quality, the ZV-1F is the ideal next step for content creators and vloggers. Find out more.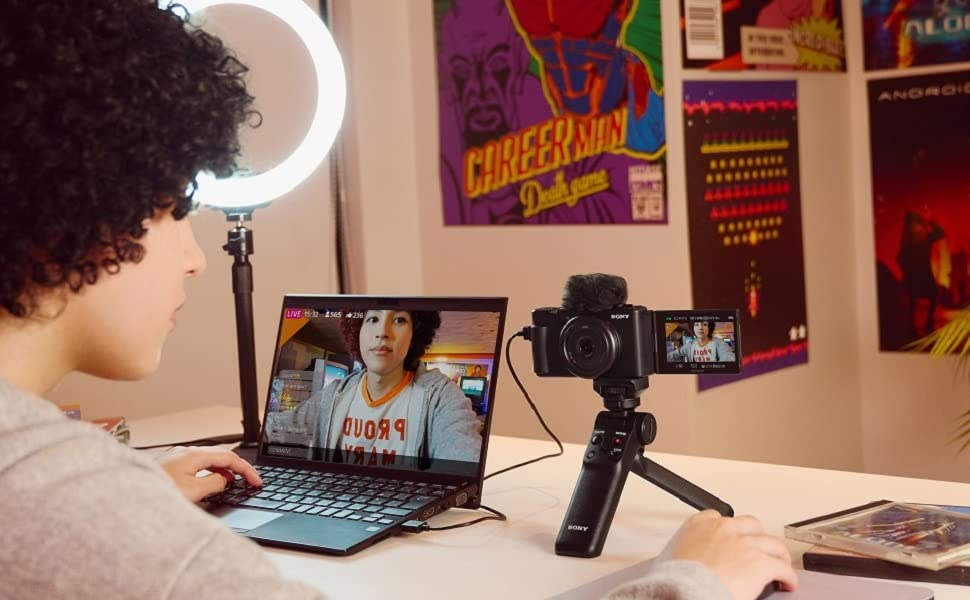 Take your best shot
Fit everything in frame

With the ZV-1F, you can truly capture it all—it allows you to snap a group selfie along with an expansive view of the background scenery. Since the camera's ultra wide-angle 20 mm2 lens captures a wider field of view than the human visual field, you can take images with eye-popping depth and perspective, even in narrow spaces, both indoors and outdoors.

Beautiful skin tones for everyone

Look your best any time you're shooting. Without any special settings, the ZV-1F will accurately capture your skin tone, ensuring you a healthy and natural look. There's also a Soft Skin Effect selectable to OFF/Low/Mid/High to adjust your skin smoothness.

Sharp AF, bright face

Using Eye AF, the camera automatically recognizes human faces and eyes, making sure you stay in focus in front of the lens. Switching the focus to another subject is easy—just touch the screen. There's no need to worry about lighting either, as Face Priority AE will automatically brighten your face.

Ideal for product-review videos

Put your products on centre stage with a single touch. Just set the Product Showcase Setting, and simply hold a product in the centre of the frame. The camera will automatically focus on it—with no additional gestures needed. Let your viewers concentrate on what counts, when it counts.
Stunning visuals
Easy bokeh at the push of a button

Get beautiful defocused background like a pro with just a press of the Bokeh Switch. The camera's large 1.0-type image sensor allows for true optical bokeh. Select [Defocus] to make the main subject stand out against the bokeh background, or [Clear] to keep the entire image in focus.

Impressive colours to match your style

Shoot beautifully coloured images from the get-go without worrying about editing. With the ZV-1F, you don't need a fancy crew for fancy colour—just choose from 10 available presets for pro-level footage that matches the scene and your style.

Slow or speed at the touch of a button

Capture those touching moments in slow motion or ramp up the energy for dramatic scenes—all without any editing. With the ZV-1F, you can adjust the footage speed just by pressing the S&Q button. Shoot smooth video at speeds up to 5x slower3, or use hyperlapse shooting to make the video up to 60x faster3 and bring your vision to life.4 5

Steady footage even when walking

Showing your viewers the world around you makes engaging content, but shaky footage can be a bit distracting. The ZV-1F allows you to capture video clearly even while walking. Active Mode image stabilization6 helps to minimize image blur from handheld shooting for steadier shots.
Designed for clear voice recording

Indoors or outdoors, the ZV-1F is designed to always capture your voice clearly no matter where you're shooting. The built-in Directional 3-Capsule Mic collects sound from the front area of the camera, giving you high-quality audio, so you can put your energy into creativity, instead of worrying about the sound while recording.

Clear sound even on windy days

When you're shooting outdoors and battling the wind, the ZV-1F can still record your voice clearly, thanks to a supplied wind screen that drastically reduces wind noise.

Vertical video made simple

Shoot vertical videos7 for social media just like on your smartphone. The ZV-1F also gives you the option of rotating horizontal video in-camera with no extra editing required. What's more, vertical videos are automatically tagged so you can transfer them straight to your smartphone, letting you quickly get your content out to the world.

Connect to your smartphone to do more

Transfer all your recorded images and videos to your smartphone over Wi-Fi through the Imaging Edge Mobile Plus app. It also turns your phone into a remote control for remote shooting.
Select the best scenes

Only transfer the scenes you need, saving time and smartphone storage space. By adding a Shot Mark while shooting or replaying a video, you can cut out a 15, 30, or 60 second9 clip to send straight to your smartphone10. Shot Marks also allow you to later easily find the scenes you want to use, cutting down on time searching through footage.

Simple, intuitive control

Even first-time camera users can jump straight into shooting with the ZV-1F. There's no need to study complex settings. Control icons are displayed on the screen and are easily adjustable with just a touch.

Never forget to press record

Say goodbye to accidentally missing the action. When you press record, the recording lamp glows red and a red frame appears on the screen, letting you know instantly that you're capturing what counts.

Effortlessly portable

Small and lightweight, the camera is designed to be taken out and about—just like your smartphone. Capture everyday life with ease, and grab content on the go.