Product Description
MOON Sumo – The Convertible Car Seat
A rear-facing infant car seat is highly recommended for the child's travel safety in the early years. But the children grow so fast that in no time, you need to be looking for a forward-facing toddler car seat for your rapidly growing young traveler. To help you get rid of this hassle, we at MOON created Sumo – the convertible car booster seat that can go from rearwards to forward in a matter of minutes!
When this unique quality combines comfort-oriented features specific only to the MOON baby products, an ultimate symbol of child travel safety, comfort, and feasibility is born.
The four recline positions boasted by Sumo car seat for kids are:
✔ Rear-faced highest safety adjustment for group 0+ infants under 12 months (0-13kg)
✔ Forward-faced adjustment suitable for group 1 babies (9-18kg)
✔ Forward-faced adjustment suitable for group 2 kids (15-25kg)
✔ Straight back adjustment (do not use forward faced if the child weighs less than 9kg)
A PRACTICAL PRESENT
These seats are highly desirable pieces of car accessories for parents who keep the safety of their children a top priority. A range of unique color combinations will also make them a popular gift among young recipients.
PRODUCT DETAILS
Material:

Polyester

Size:

40 x 40 x 62 cm

Weight:

5.5kg

Suitable Age:

0m to 6y
Set Contains:
1 xProduct 1 x Instructions
---
From the manufacturer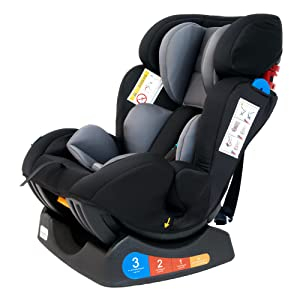 Moon Sumo Car Seat -BLACK (group 0+/1/2)
The Moon sumo car seat (group 0+/1/2) can be used for children from new born up to 6 years of age. It contains a side protection system, as well as reclining options. It easily converts to and from 3 riding modes, making it perfectly ergonomic.
Its holding capacity can range up to 25 kgs.
4 Recline Positions

The harness height adjusts to the headrest height while altering, to allow easy use of 4 recline positions (1 rearward, 3 forward), ensuring comfortability in long travels.

Rear and Forward-Facing

Rear and forward-facing harness modes for different age groups.

Adjustable HeadRest

The headrest can be easily adjusted with one hand in order to grow with your child.